Segway tour Nature and elegance - Touquet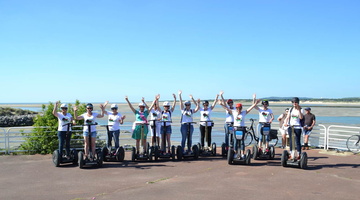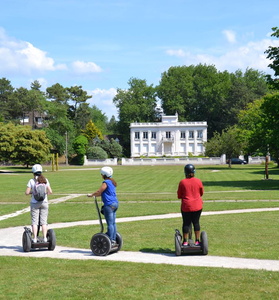 See 7 photos
Discover the must-see sites of Le Touquet-Paris-Plage.
Book online
Book with no fees, no waiting at the best price!
lock
PROGRAM :
Designed for all, this circuit, varied as well in the nature of the landscapes as in the crossed spaces, will allow you a progressive and educational approach of the piloting of Segway.
With vocation of discovery of the major sites of Le Touquet, this circuit is peppered with small surprises, unusual passages.

You will discover :

- The cornice walk
Former road converted in 2009 into a bicycle path and pedestrian walkway, the cornice walk crosses a typical dune line of our coastline. Between dune and pine forest, you will see the Mont de l'Eglise approaching. Until the discovery of the estuary of the Canche.
- The North nautical base
Anchorage point for boaters, and starting point for many water sports, the North Nautical Base offers a spectacular view of the Canche estuary. A 180° view on its geomorphology.
- The Lighthouse
Emblem of the city, it is discovered when you least expect it. So chic!
- From the Ypres garden.
You will follow the historical axis of Le Touquet, from the edge of the forest to the seafront, passing in front of the town hall, the Ste-Jeanne d'Arc church, and the covered market, the economic epicenter of the pearl of the Opal Coast.

Isthis your first Segway ride?
The advantage of this tour is that it starts on the cornice walk, a straight line that presents no difficulty. You will then have time to reassure yourself, by measuring the astonishing fluidity of this self-stabilized transporter.
Read more
| | |
| --- | --- |
| Duration | 1h00 |
| Rate / person | From 30 € |
| Minimum age | 12 years old |
Details of the formula
The package includes
The services of an instructor guide
Rental of the Segway gyropod
The loan of a protective helmet is mandatory
The loan of a raincoat if needed
A training session of about 15 minutes
Discover the activity in video
Good to know
F.A.Q.
Can I cancel my reservation?
You can cancel free of charge up to 24 hours before the activity date. No refunds are possible within 24 hours before the departure date. You can also ask for a postponement of your reservation at no cost.

What happens in case of rain?
Segway rides are all weather and we provide waterproof ponchos. However, we understand that you may not want to take the ride in continuous rain. In the event that, within 2 hours of departure, continuous rain is forecasted during the time slot of your ride, you may cancel without charge. In case of heavy rain, stormy rain, we can cancel the walk and we will warn you as soon as possible. You will then receive a full refund. Don't forget to check the weather forecast (here: Météo France) if you arrive soon.
Can anyone ride a Segway?
You must be at least 12 years old, not have serious inner ear problems, and not be pregnant. And is it easy? It takes 2 to 3 minutes to get the hang of the Segway! In fact, it couldn't be easier.

What time does the activity start?
Please arrive at least 15 minutes before the start of your tour so that you have time to fill out the start log and be equipped with a helmet. We cannot wait for latecomers as it affects the experience of other participants. If you are running late, please try to call us as we may be able to schedule an alternate departure. No refunds can be requested for late arrivals. Please remember to plan ahead for parking. It is sometimes difficult to find a parking space.

Where is the meeting place?
Meet at 63 boulevard du docteur Jules Pouget, 62520 LE TOUQUET PARIS-PLAGE.

Are there any parking lots nearby ?
Yes ! and we give you here the link to the parking map of the city. But remember to plan ahead, in case there are not enough spaces, especially on busy days.

Is therea minimum/maximum number of participants?
Everyone is welcome at Mobilboard. However, our reservations are guaranteed from 2 people. You can however pre-book in order to be on the waiting list. We can however cancel your reservation free of charge or offer you another departure or a different date.
For this tour, which is aimed at individuals, the maximum number of participants is 6 people, for an optimal experience. For larger groups who wish to have a tailor-made service, it's here!

What should I wear?
Flat, comfortable shoes are a good start. Remember to cover up: an extra layer, you never know, is welcome. And in case of rain, we have waterproof ponchos.
Notice
Availability
Meeting place
63, Boulevard Du Docteur Pouget, 62520 Le Touquet-Paris-Plage