Lyon - Buying advertising space and mobile street marketing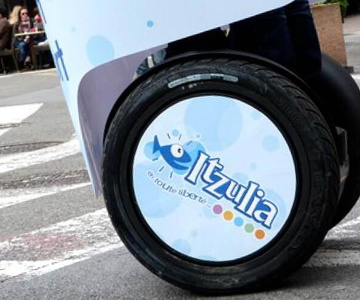 Be visible, everywhere!
The advertising marking of the wheels ensures an additional visibility in complement of the fairing and/or the advertising banners. The rotation attracts the eye of passers-by for more visual impact. The display surface is optimized for even larger advertising panels.
This covering assures you a guaranteed visibility in the middle of the city. With a regular deployment, Mobilboard deploys in Lyon a unique mobile display system close to the public.
GO TO "FULL COVERING" MODE !

Other equipment :
To refine a street marketing device already in place, as part of a roadshow or your annual communication plan in urban display, we equip our fleet of Segway gyropods with equipment providing immediate and continuous visibility.
LIGHT ADVERTISING FAIRING :
Smaller than the classic fairing, this fairing is placed on the gyropod of our guides.
COVERING BAG "MOBILTOP":
Located on the front of the gyropod, on a bag at chest height, this visual guarantees visibility to your audience.
Request for information
You wish to contact the agency, obtain information or a price list?
Our team is at your disposal.