Street Marketing Lyon - Segway gyropod product launch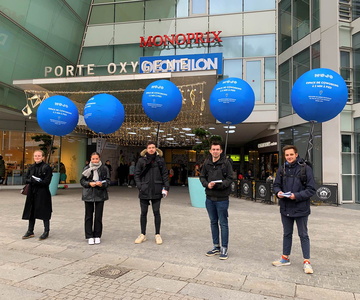 You want to be sure to create the event from the first days of opening?
Thanks to Mobilboard's street marketing devices, you will generate qualified traffic: in a specific and precise area around your point of sale, make your brand shine through an original and attractive visibility. Capture customers on targeted consumption areas in the Presqu'île, Confluence or Part-Dieu.
These Segway gyropod devices fit perfectly into a global communication plan and are adapted to a budget for the opening of a sales outlet.
Case study :
Lenovo
Lenovo wanted to inform the general public about the launch of a new tablet, in the heart of downtown Lyon, in the Part-Dieu district.
Objective:
To announce the launch of a new Lenovo tablet.
Device:
2 animators and 1 Segway gyropod pilot distribute flyers.
Area:
Lyon Part-Dieu
Request for information
You wish to contact the agency, obtain information or a price list?
Our team is at your disposal.