Your private Segway event in Nantes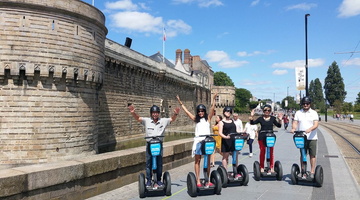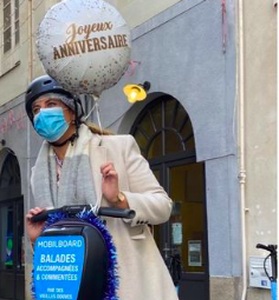 See 7 photos
Let's create together an event that meets your expectations!
Strong points
A passionate and dynamic team offers you tailor-made services, to make you live a unique experience and share a convivial moment, thanks to an original and unusual activity: electric mobility!
Rides with prizes, Green Pursuit animation, treasure hunt or even tasting ride, together, share amazing emotions and a unique experience...
Accessible to all, really to ALL: a 1 minute initiation is enough!
Bachelor party in Nantes (EVC)
Bachelor party in Nantes (EVG)
Bachelorette party in Nantes (BGS)
Celebrate your birthday!
A Segway or electric scooter ride to celebrate your birthday in an original way!
Weekend in Nantes with friends
Surprise your friends and make them discover Nantes "differently" with our funny electric machines! You can rent them for free or take a guided tour!
Family reunion
Live your family reunion differently... Children, teenagers, grandparents, the whole family on our electric vehicles! (also ideal for your cousin's party!)
A diploma to celebrate
Congratulations! You've done well! Come and celebrate with your friends during a nice scooter or Segway ride! For an even more convivial moment, we suggest a picnic on the banks of the Loire!
Retirement party
Finally an original way to celebrate the retirement of your colleague! A mixed ride with our scooters and Segways!
Share a friendly and pleasant moment outside the walls of the company to enjoy the future young retiree!
Wedding anniversary
Make her dream, she knows that you are the most original man on the planet, and you are going to prove it!
Book her a romantic stroll through the emblematic monuments of the city of Nantes!
Both of you in love in free rental or with us to hold the candle to you (and also to comment you in a way the history, the present and the future of the city of Nantes).
Original vehicle for your wedding
You want to impress your family and all your friends; leave the town hall or the church on your personalized Segway and cross the hedge of honor under the cheers and the astonishment of your guests!
PS: Please remove the rice grains stuck in the carpet of the Segway.
Read more
Details of the formula
The package includes
A certified Segway guide will train you before the event
The loan of a protective helmet
Discover the activity in video
Good to know
Equipment to bring :
Flat and closed shoes recommended
Rates :
On estimate

Contact :
Mail : nantes@mobilboard.com
Phone : 02 40 75 69 47
Notice
Agency accessibility Mobilboard Nantes
The agency is located near the Place Royale in Nantes, at 9 Rue des Vieilles Douves.
Recommended parking: Gloriette, Commerce or Tour Bretagne parking lots.
Meeting place
9 Rue des Vieilles Douves, 44000 Nantes