Fast charger for Ninebot Max G30 scooter (5A) - Nice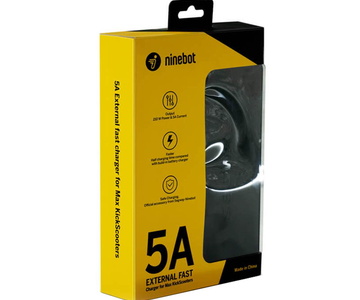 Recharge your scooter in no time!
Chargeur rapide 5A pour série Ninebot Max

- 5 Amp
- 210 watts
- 3 heures de charge (capacité 551 Wh)
- Exclusivement pour la série MAX Kickscooter
- Produit officiel de la Marque.

Le chargeur rapide 5A est spécialement conçu pour la trottinette Ninebot KickScooter MAX G30. En raison de l'intensité élevée de ce chargeur, il charge la batterie d'une capacité de 551 Wh en seulement 3 heures, soit la moitié du temps qu'un chargeur interne prend. Cela ne change en rien les performances de la machine. Cela vous permet d'avoir plus de liberté de mouvement lorsque vous amenez avec vous le chargeur lors de vos déplacements.

Grace à ce Fast Charger, Chargez votre Trottinette rapidement, en toute sécurité, à tout moment et n'importe où.

Nous rappelons aux utilisateurs que ce chargeur est exclusivement destiné à la série MAX Kickscooters, son utilisation  sur l'un des KickScooter ES ou E n'est pas recommandée car il pourrait endommager le produit.

60€ ttc

Pour commander la vôtre, contactez-nous par téléphone (04.93.80.21.27) ou par mail (nice-promenade@mobilboard.com). 
Idéal pour charger rapidement votre trottinette.
Request for information
You wish to contact the agency, obtain information or a price list?
Our team is at your disposal.