Ninebot E22 & E25 - Nice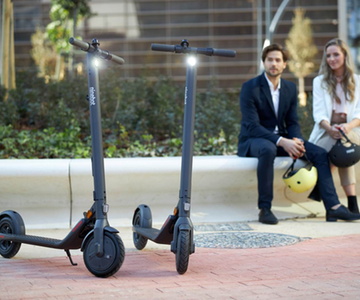 Still the same design, even more comfortable!
The Ninebot Kickscooters E22E & E25E adopt a sleek, minimalist and very elegant design, enhanced by exceptional finishes that will allow you to move comfortably and with style.

Based on Segway technology, the world leader in light electric transport, the E22 - E25 range of electric scooters replaces the former generation of ES1 and ES2 which are among the best sellers on the French market.

These two models are particularly appreciated for their sleek design, their exceptional finishes for a very attractive price.
* Foldable in a klick to take it easily in a train, a subway, an elevator or slip it in the trunk of your car...
* Small size and maximum lightness for only 13.5 kg,
* Patented shock absorbing tires, anti-puncture and 12-inch wheels for better comfort while riding,
* 300 W power to overcome 15° slopes,
* Complies with the new standards set by the decree on the EDPM in force in France since the end of October 2019.

The E22 offers a range of 20 km for a top speed of 20 km/h.
The E25 offers a range of 25 km for a top speed of 25 km/h, as well as a double system of electric and magnetic braking, plus a foot brake.

To order yours, contact us by phone (04.93.80.21.27) or by mail (nice-promenade@mobilboard.com)
Click here

Models to discover and test in our store.

Special offer not to be missed!

NINEBOT E22E

Price: 399 € new
Price: 299 € used model *

NINEBOT E25E

Price: 499 € new
Price: 399 € used model *
(* models from 2020 guaranteed until June 2021)
FEATURES
Kisckscooter E22
Max speed - 20 km/h
Autonomy - Up to 20 km
Weight - 13,4 kg
Age - Minimum 12 years
Battery - 187 Wh (5,1 Ah)
Dimensions folded - 114 x 42 x 36 cm
Dimensions unfolded - 111 x 42 x 112 cm
Shock absorbers - Front
Tires - Solid with foam
Wheel size - 23 cm
Lights - Front and Rear
Brake lights - yes
Side reflectors - yes
Bell - yes
Max. tilt - 15
Max driver weight - 100 kg
Waterproofing - IPX4
Motor power - 300 W
Folding mechanism - Yes
Max charging time - 3,5 h
Request for information
You wish to contact the agency, obtain information or a price list?
Our team is at your disposal.