Rental electric scooter Nice - category B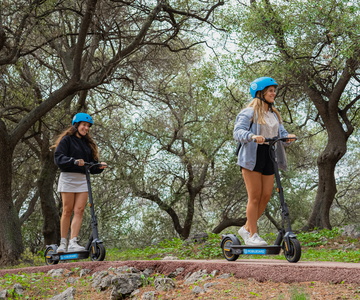 Mobilboard, leader of the electric scooter in Nice, offers the latest model Ninebot by Segway: NINEBOT MAX G30.
The MAX G30 is the best choice of electric scooter for a comfortable and high quality ride. Its tubeless tires will offer you more comfort. It offers a durable autonomy, up to 65 km. The lights, reflectors and dual braking system will ensure your safety while riding. This electric scooter complies with the law with a maximum speed of 20 to 25 km/h and a pedestrian mode (up to 6 km/h).
What to visit ?
Nice is a big city, so it's hard to explore it on foot in a single day! Renting an electric scooter will give you more time to explore the different spots of the city conveniently.
Avoid traffic jams and start by riding along the sea on the Promenade des Anglais. Then dive into the Old Nice with its fabulous Cours Saleya market, restaurants and colorful little streets. Get some height by climbing the Castle Hill where you'll have beautiful panoramic views.
Rates :
1 hour rental → 20 €.
2h rental → 25 € for one hour
4-hour rental → 30 €.
Full day rental → 35 €.
24H00 rental → 45 €.
2-day rental → 60 €.
Where are we ?
We are at 2 rue Halévy. Located behind the Rulh Meridien hotel.
Parking access : Interparking Rulh Meridien, parking Mediterranée
How does it work?

- Book directly online, by email or at +33 (0)4 93 80 21 27
- Meet us at our store (2 rue Halévy, 06 000 Nice)
- Enjoy your stroll in Nice

Participation criteria :

Minimum age for driving in France: 12 years old
People under 18 years old must be accompanied by an adult
The package includes :
The rental of an electric scooter with a charge A charger, a helmet, a map of the city
Documents to be provided:
For any rental of a person of less than 18 years this one must be accompanied by a major and responsible person to carry out the signature of the contract of hiring. Obligatory minimum age for the control in France: 12 years A deposit and an identity paper will be required on the spot. (bank print or cash)
Request for information
You wish to contact the agency, obtain information or a price list?
Our team is at your disposal.