2 "Irresistible Christmas" gift cards Cilaos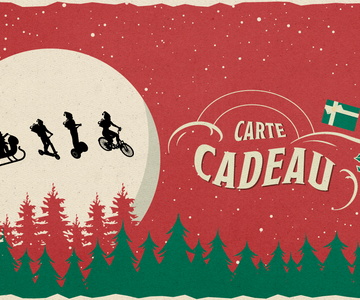 Hohoho, here we are already in December? Our favorite month, and why?
Because it's the month of presents? Of Christmas? You haven't found the gifts you will put under the tree this year? No problemo! We didn't just decide to please you? But to treat you ? With an absolutely irresistible offer ?
1 GIFT CARD PURCHASED the 2nd at -50% ! This offer is valid on our SEGWAY TOUR GIFT CARDS with a minimum value of 59€ for any purchase before Santa's visit!
Valid for the same group of 4 people maximum during 1 year, cannot be combined with any other offer. Now it's time to start filling Santa's bag?
Happy shopping and above all, Merry Christmas (a little early)?
Gift card valid
Until Dec. 7, 2023
On the formula
THE MAGIC & AUTHENTICITY OF CILAOS
The price includes
See details on our Segway Tour Cilaos
The price does not include
See details on our Segway Tour Cilaos
How does it work ?
Choose a card, pay and send your gift card to whoever you want. It's that easy!
You will receive with your purchase confirmation a PDF attachment containing the gift card and information about the establishment. Download this PDF and send it by email to the person of your choice.
Buy a gift card online
Request for information
You wish to contact the agency, obtain information or a price list?
Our team is at your disposal.