2 "Irresistible Christmas" gift cards Étang Salé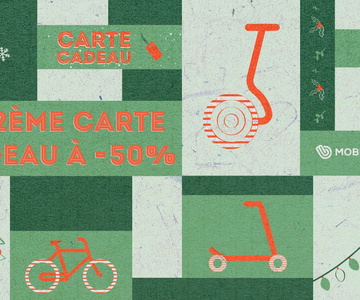 ⌛️ Tick-tock, tick-tock! 🎅🏾 Christmas is fast approaching!!🎄 Yep, here we are soon in December, the month of joy, magic 🪄and sharing!!! ✨Still looking for the perfect gifts 🎁s for this year? We've decided not just to please you 💕 but to treat you with an absolutely irresistible offer!!! 🤩
1 GIFT CARD PURCHASED the 2nd at -50%!
Valid for 1 year from date of purchase, for all purchases before Santa Claus visits 🎅🏾, cannot be combined with any other offer, valid from December 24, 2023.
Now it's time to start filling Santa's bag 🎄? Happy shopping 🛍 and above all, Merry Christmas (a little early)?
Applicable to
ETANG SALE ENTRE TERRE & MER
Price includes
See details on our Segway Tour Etang Salé
Price does not include
See details on our Segway Tour Etang Salé
How does it work?
Choose a card, pay and send your gift card to whomever you like. It's that easy!
With your purchase confirmation, you'll receive a PDF attachment containing the gift card and information about the establishment. Download the PDF and e-mail it to the person of your choice.
Buy a gift card online
Request for information
You wish to contact the agency, obtain information or a price list?
Our team is at your disposal.