Discover our new tasting room!
Published on 13/03/2018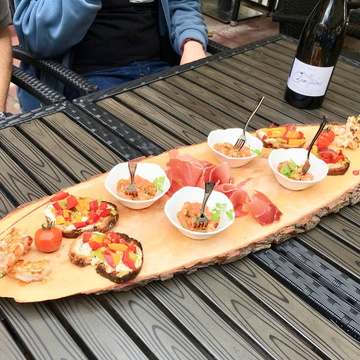 A nice new feature to make your mouth water and your taste buds celebrate! When you come back from your walk with our team, come and discover the local products that make the reputation of our region in the heart of a warm terrace that can accommodate up to 30 people.

Between the vineyards of Condrieu, Côte-Rôtie and the Via Rhôna, the place is an invitation to the pleasures of gourmet food and wine. Whether you are on a walk with us or whether you are passing by on a bike ride, don't hesitate to make a little stop. We will propose you tasting and sale of the best wines of the Rhone Valley as well as local products. All this in the good mood and conviviality that animates us.

Depending on the schedule, tastings can be sweet (Rhône pebbles, Macoroti, etc.) or savory (Pilat goat cheese and Rigotte de Condrieu, Pilat charcuterie, truffled mortadella). For those who do not drink alcohol, a selection of local fruit juices will be offered.

Open in high season 7 days a week, from 9:00 am to 12:00 pm and from 2:00 pm to 7:00 pm, these tastings are not free and are linked to an "Oeno" type walk. They can take place in our dedicated space, at the winegrower's or the restaurant owner's in case of special services or during a gourmet tour.