Street Marketing Agency in Fort-de-France
Your turnkey street marketing campaign!
For more than 10 years, we organize your operation from A to Z in the city of your choice, everywhere on the territory. Mobilboard develops a format of communication " new generation ".
The impact of the mobile display associated with the distribution of flyers
The mobile display in complement of the operations of pure street-marketing, here is what allows your message to be diffused in the good place, at the good time and near the good target.
It is the ideal way to create a commercial dynamic during a special period, an event and to optimize your communication results.
Traffic generation, awareness, special offer, product launch, store opening, trade show... For each objective, an operation proposal.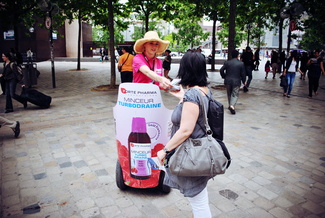 There are several reasons why a company may decide to organize a street marketing campaign in Fort-de-France, Martinique:
Reach a large target audience: Street marketing can help reach a large target audience, including those who would not be interested in other forms of traditional marketing.
Create a strong visual impact: Street marketing can provide a strong visual presence on city streets, which can draw attention to the brand and reinforce its recognition.
Encourage direct interaction with consumers: Street marketing can provide direct interaction with consumers, helping to build stronger relationships with them and better understand their needs and opinions.
Create brand buzz: A well-designed street marketing campaign can create brand buzz and generate consumer interest in the products or services offered.