Street Marketing Agency in Perpignan
Your turnkey street marketing campaign!
For more than 10 years, we organize your operation from A to Z in the city of your choice, everywhere on the territory. Mobilboard develops a format of communication " new generation ".
The impact of the mobile display associated with the distribution of flyers
The use of mobile billboards as a complement to street-marketing strategies can help to spread your message at the right time, in the right place and in front of the right people.
This method is ideal for creating business momentum during special occasions or events, while maximizing your communication results.
Whether it's to drive traffic, build brand awareness, offer special deals, launch a new product, open a store or participate in a trade show, there's a solution for every purpose.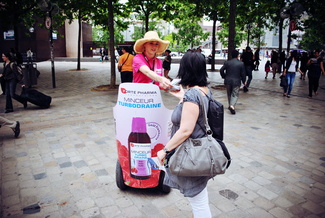 There can be several reasons why a company may decide to organize a street marketing campaign in Perpignan in Occitania:
Reach a large targeted audience: Street marketing is a technique that allows to reach a diverse audience, including individuals who would not be attracted by other more conventional forms of marketing.

Create a strong visual impact: Street marketing offers remarkable visibility on city streets, which draws attention to the brand and reinforces its notoriety.

Encourage direct interaction with consumers: Street marketing encourages direct contact with consumers, thus fostering a strong bond with them and a better understanding of their needs and opinions.

Generate brand buzz: An innovative street marketing campaign can create brand excitement and stimulate consumer interest in the products or services offered.