Electric bike rental in Rennes
Opportunity: become a Mobilboard member in Rennes.

> If you are interested in joining the network, discover the advantages for renters in the"Become a partner" section.
> If you wish to find the nearest agency, consult the page "Find an agency".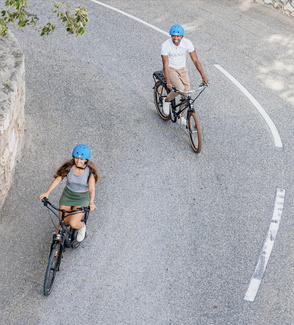 About bike rental in Rennes, Brittany
An electric bicycle is a cycle equipped with pedals and an auxiliary electric motor and carrying a source of energy: a rechargeable battery. As its name indicates, the electric bicycle is a means of travel that uses electrical impulses to facilitate pedaling. It offers the advantage to the rider to provide less effort while enjoying the pleasure of a classic mechanical bike.
We help you choose the right bike rental for your stay and your desires. Enter the number of bikes and your rental dates to find out the rates.
Opt for the rental without a guide to discover the region in complete freedom. You can choose to pedal normally and use your muscular strength to ride, or to use the assistance of the bike without any effort!
Distances and differences in altitude are of no importance on your route. You can easily reach the places you have identified in the area. Ask your Mobilboard agency for advice.
There are several reasons to rent an electric bike:
Sustainable mobility: they can offer a sustainable mobility solution for people who want to avoid public transportation or driving.

Time savings: electric bikes can cover more ground in less time than walking.

Physical activity: these bikes provide light physical activity that can be enjoyable for users.

Escape: A bicycle activity can provide an escape from daily activities and an opportunity for relaxation and recreation.

Visit a city or region: electric bikes offer the opportunity to discover new areas of a territory and explore them in a different way.