Works Councils - Carnac Quiberon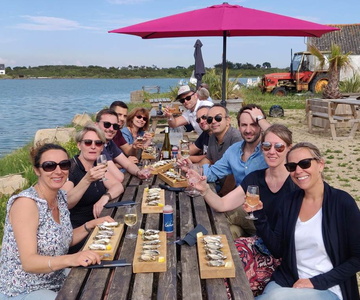 You want to organize an outing between members of your works council? Take advantage of preferential rates!
Mobilboard offers eco-responsible animations with Segway, scooters and electric bikes that will delight everyone!
Discovery ride (1h / 1h30 / 2h)
In Carnac, let yourself be transported by Segway along the beaches or towards the largest megalithic site in the world.
In Quiberon, explore the sumptuous wild coast or the Pointe du Conguel.
During your excursion, enjoy the anecdotes and information on the region delivered by your guide!
From 27€/person *
Gourmet walk (1h30 / 2h)
On the program, oyster and shrimp tasting with a glass of white wine! After discovering the beaches of Carnac on a Segway, head to the Anse du Pô to meet an atypical oyster farmer who will tell you about his passionate job.
From 36€/person *

Multi-activity ride (1h30 / 2h)
Combine the Segway with the movement of your choice, among: the electric bike, the bicycle or the electric scooter! This activity offers everyone the opportunity to pilot their own means of transportation and to switch every 4 km.

From 18€/person *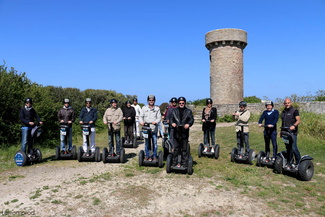 Green Pursuit Challenge (1h30 / 2h)
Slaloms in relays, blindfold course on the beach, near the menhirs or along the wild coast, quizzes... So many challenges to enhance your Segway ride! Divided into teams, the groups leave on Segways and participate in various games in a spirit of mutual aid and challenge.
From 36€/person *

Challenge on circuits (2h)
On delimited terrain and divided into teams, participants compete in various events: slaloms, races, crossing, turns, waiter... Accessible to a large number of people, this custom-made formula is flexible in its duration and adapts to your desires. It can be set up in the place of your choice,
in front of your meeting place, your work place... Inside or outside!

From 205€ per animation*.

New in 2020 : The electric bike (1h30 / 2h)
Mobilboard has decided to extend its skills in guiding and now offers you guided rides 100% electric bikes! Discover Carnac and Quiberon by accessing new places with the comments of your guide and let yourself be transported along the roads and paths.
From 27€/person *

Ticketing
Contact us to receive your personalized proposal or to set up a ticketing system !
Request for information
You wish to contact the agency, obtain information or a price list?
Our team is at your disposal.