Electric bike rental in Deauville
Opportunity: become a Mobilboard member in Deauville.

> If you are interested in joining the network, discover the advantages for renters in the"Become a partner" section.
> If you wish to find the nearest agency, consult the page "Find an agency".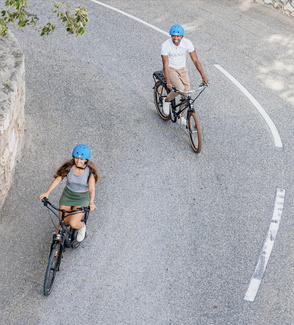 About bike rental in Deauville, Normandy
The electric bicycle is an innovative means of transportation that combines physical effort and electrical assistance. Indeed, this cycle equipped with an auxiliary motor and a rechargeable battery allows for a smoother and less tiring ride, while retaining the charm of a traditional bicycle.
So, if you're looking for a custom bike rental experience, we're here to help you find the best fit for your needs and desires. With a wide range of electric bikes available, you can find the perfect one for you.
By choosing an unaccompanied rental, you can explore the area at your own pace and with complete freedom. Not only are rugged routes no longer an obstacle with electric assistance, but you can also pedal your way through the beauty of the area.
Whether you're looking for adventure on mountain trails or a quiet ride through the countryside, our Mobilboard agency is here to help you plan your route. So, don't hesitate and come discover the pleasure of riding in total freedom!
Renting an electric bike can have several advantages:
Sustainable mobility: they are a sustainable mobility option for those who prefer to avoid public transportation or the car.

Time savings: electric bikes allow you to travel a greater distance in less time than you would on foot.

Physical activity: these bikes allow for gentle physical activity that is enjoyable for cyclists.

Escape: A bike ride can be a nice break from daily routines and an opportunity to relax and have fun.

Discover a city or region: electric bikes offer an excellent opportunity to explore new areas of a territory in an original way.