Epinal - Spider Swincar Tandem for sale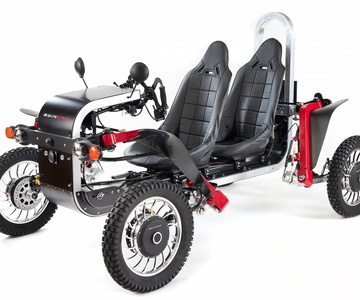 Spider Swincar is a pendular electric vehicle, with surprisingly high crossing capacities.
Its characteristics :
4 wheel drive steering
Nominal power : 4 kW
60 km of autonomy.
25 km/h max.
2 - 3 hours of recharging.
Vehicle registered and approved for road use with a BSR/AM license from 16 years old.
LifePo4 battery (2 years warranty)
Front and rear disc brakes
Lighting, Turn signals.
Road homologation MAGA (Self-Propelled Agricultural Machine)
Warranty : 1 year
Tandem version
Price from 16 400 H.T. - 19 680 INCLUDING VAT
or rental from 380 € H.T.
Request for information
You wish to contact the agency, obtain information or a price list?
Our team is at your disposal.