FOR A LEISURE CENTER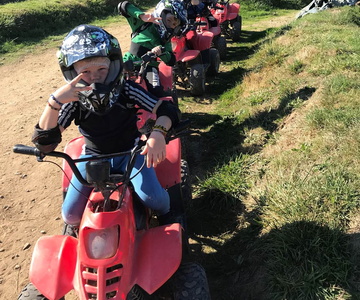 Discover our animations for children and teenagers, from 3 years old ! Animations for groups. Located in Carnac in the open air.
Supervised by our certified team, participants will be able to try their hand at driving 100% electric machines, with a briefing and initiation before each session.

Discovery sessions:
► Cabriolet:Young children from 3 to 4 years old take their first turns behind the wheel of their Cabriolet on the inflatable circuit. Give them their first driving sensation!

► Quad, Buggy or Motorcycle: From 5 to 11 years old, kids drive their own Quad, Buggy or Motorcycle on the Prairie 1 track.
Fun guaranteed!
► Pocket Quad : From 12 years old, teens chain together turns, bumps, straight lines at the wheel of their Pocket Quad on the Prairie 2 circuit. Sensation and speed are on the agenda!
► Segway: Teens from 12 years old test this new 2-wheeled machine on a playground of more than 4,000m² in the forest. Thrills guaranteed!

Session: 10 minutes / Segway session: 15 minutes


Multi-sessions:
► Quad/Buggy or Buggy/Motorcycle or Quad/Motorcycle: Children from 5 to 11 years old link two 10-minute sessions at the wheel of the machines of their choice (2 machines/person).

► Pocket Quad / Segway: Teens, from 12 years old, take pleasure well installed in their Pocket Quad then take place on their Gyropode Sgeway and venture into the forest!

Session: 10 minutes / Segway session: 15 minutes
After the effort, the comfort:
Take advantage of a terrace to picnic, have a snack or simply take a relaxing break! This is also an opportunity for the children to watch their friends evolve on the different tracks.
The instructors can provide games to keep the children occupied while their friends are on the slopes.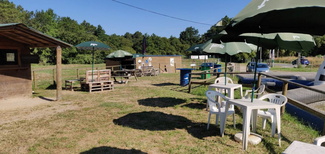 ► Discover also our Segway gyropod and electric scooter rides and challenges on Carnac & Quiberon, from 12 years old!
Request for information
You wish to contact the agency, obtain information or a price list?
Our team is at your disposal.