Group offer : Segway ride EVG/EVJF - Lille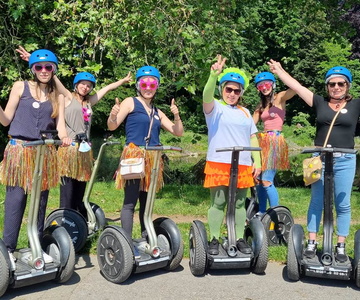 Are you looking for an original idea for your friend's bachelorette party?
First of all, it's free for her!
An EVJF, that is prepared. So before the meeting, we can prepare with the organizers a personalized service with, for example, series of actions to do, pledges, games to find the EVJF that looks like you.
We have 2 customizable proposals, quite adaptable according to your expectations. This proposal is optional.
So, are you ready for an unforgettable EVJF?

PROGRAM : Call us !

F.A.Q.
Can I cancel my reservation?
You can cancel free of charge up to 7 days before the date of the activity. No refunds are possible after that. However, you can ask for a postponement of your reservation at no cost.

What happens in case of rain?
Segway rides are all weather and we provide waterproof ponchos. However, we understand that you may not want to do the ride in continuous rain. In the event that, within 2 hours of departure, continuous rain is forecasted during the time slot of your ride, you may cancel without charge. In case of heavy rain, stormy rain, we can cancel the walk and we will warn you as soon as possible. You will then receive a full refund. Don't forget to check the weather forecast (here: Météo France) if you arrive soon.
Can anyone ride a Segway?
You must be at least 12 years old, not have serious inner ear problems, not be pregnant. And is it easy? 2 to 3 minutes to get the hang of the Segway! In fact, it couldn't be easier.

What time does the activity start?
Please arrive at least 15 minutes before the start of your tour to allow time to fill out the sign-in sheet and to be equipped with a helmet. We cannot wait for latecomers as it affects the experience of other participants. If you are running late, please try to call us as we may be able to schedule an alternate departure. No refunds can be requested for late arrivals. Please remember to plan ahead for parking. It is sometimes difficult to find a parking space.

Where is the meeting place?
Meet at the allée des Marronniers, near the Ramponneau bridge, in front of the restaurant ""la péniche Archimède"".

Are there anyparking lots nearby?
Yes, and here is a link to the city's parking map. But remember to plan ahead, in case there is a shortage of spaces, especially on busy days.

Is therea minimum/maximum number of participants?
Everyone is welcome at Mobilboard. However, for this service, our reservations are guaranteed from 7 people. The maximum number of participants is 14, for an optimal experience. For larger groups, contact us!

What should I wear?
Flat, comfortable shoes are a good start. Remember to cover up: an extra layer, you never know, is welcome. And in case of rain, we have waterproof ponchos.
Request for information
You wish to contact the agency, obtain information or a price list?
Our team is at your disposal.