Nantes gift card - Solo box - Nantes Grand Angle - 2h30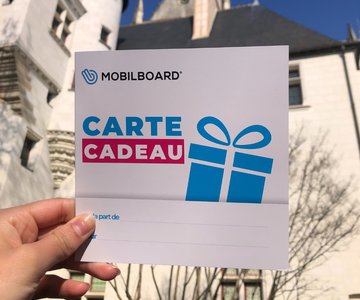 Offer him a tour of Nantes in its entirety on board our Segway gyropods.
You want to make him discover Nantes in its entirety? This tour is made for that... 2h30 to discover the city center of Nantes, everything that makes it up and everything that surrounds it during a guided tour on Segway gyropods! Offer him a visit of Nantes as a whole on board our Segway gyropods. You will discover all that makes Nantes a city rich in art and history thanks to its architectural heritage, but also its green spaces. Moreover, this tour will take you to the banks of the Loire River where sumptuous landscapes await you.
Program
Departure at the Mobilboard agency - Place Royale - Tour Bretagne - Cours des 50 Otages - Pont St Mihiel - L'Erdre - Préfecture - Cathédrale Saint-Pierre-et-Saint-Paul - Château des Ducs de Bretagne - Tour LU - Miroir d'eau - Quartier Bouffay -Eglise Ste Croix - Place Bouffay - House of Jules Verne - Feydeau Island - Saint-Nicolas Basilica - Cours Cambronne - Place Graslin - Passage Pommeraye - The Carrousel of the Marine Worlds - The Titan Crane - The Buren Rings - The Nantes Elephant - Arrival Place Royale
Valid gift card
Gift card valid for 1 person and 12 months.
On the formula
Segway: "Nantes Grand Angle" - city tour Nantes - 2H30
The price includes
A 2h30 guided and commented tour for 1 person
The loan of a helmet (mandatory) and a waterproof poncho in case of rain
An introductory session before leaving for the tour
How does it work?
Choose a card, pay and send your gift card to whoever you want. It's that easy! With your purchase confirmation, you will receive a PDF attachment containing the gift card and information about the establishment.
Download this PDF and send it by email to the person of your choice.
Practical information
The meeting point is at the Mobilboard agency 15 minutes before the departure of the ride.
The agency is located near the Place Royale in Nantes.
Recommended parking: Gloriette, Commerce or Tour Bretagne parking lots.
Conditions for the practice of the Segway gyropod
Minimum weight 45 kg and maximum 118 kg.
People under 16 years old must be accompanied by an adult.
The Segway gyropod is not accessible to pregnant women.
The Segway gyropod is not recommended for people with an inner ear problem.
Conditions of cancellation
Non-cancellable and non-refundable offer.
In case of rain, the cancellation or postponement of the ride will be done according to the rainfall.
Any delay of 10 minutes is considered as a cancellation and cannot be refunded, but the service can be postponed according to the availability of the agency within 1 month.
For more information
Mail : nantes@mobilboard.com
Tel : 02 40 75 69 47
Appointment in agency : 9 Rue des Vieilles Douves, 44000 Nantes
Buy a gift card online
Request for information
You wish to contact the agency, obtain information or a price list?
Our team is at your disposal.