Promotion on foot - Nice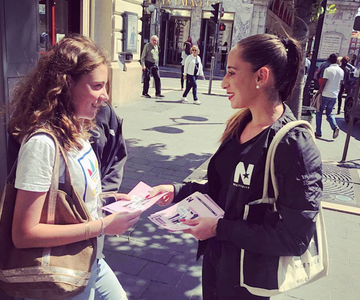 Do you want to meet your customers?
We provide you with a team of animators who will become your best ambassadors.
In-store, we take care of animating your point of sale, to make discover, to entertain and to advise the prospect. Our final goal is to influence the purchase by presenting the advantages of your products or services. Your customers will feel privileged, which is an excellent way to build loyalty.

Outdoor, our street-marketers intervene in contact with your target by going to meet him. We take care of generating traffic, promoting your products or an event.

Our specialty: "Reaching the consumer at the right time and in the right place with the right message".

The enthusiasm and professionalism of our teams as well as their sense of human contact will make a lasting impression on consumers, the key to the success of your communication campaign.

CASE STUDY: NicÉtoile Shopping Center (Hammerson Group)
The Group wanted to inform the general public about the launch of its Black Friday campaign.

OBJECTIVE: Create awareness of this important event for all the stores in the mall and thus create a lead to store. To announce the promotional offers of the brands.

SYSTEM: Distribution of flyers by 3 animators on foot + branded outfits + shopping accessories of the Shopping Center worn by the teams in action.
Request for information
You wish to contact the agency, obtain information or a price list?
Our team is at your disposal.