Purchase of advertising space - Nice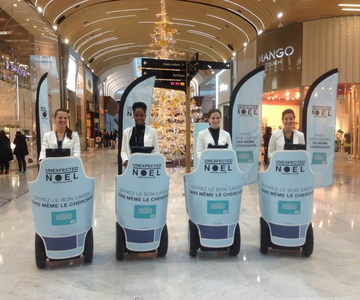 Be visible, everywhere!
This covering allows you an impactful visibility in the city center. The deployment is possible on the whole French Riviera. Our devices allow for a unique mobile display system that is close to the public.

The advertising marking of the wheels ensures an additional visibility in complement of the fairing. The rotation attracts the eyes of passers-by for more visual impact. The display surface is optimized for even larger billboards (over 2m*).
GO TO " FULL COVERING " MODE !

--> OTHER EQUIPMENT

To fine-tune a street marketing system already in place, as part of a roadshow or your annual urban advertising plan, we equip our fleet of Segway gyropods with equipment that provides you with immediate and continuous visibility.

ORIFLAMMES: with one or two sails per gyropod, attract attention from even further away. Increase the visual effect and attract even more customers.

COVERING SACOCHE "MOBILTOP" : located on the front of the gyropod, on a chest-high bag, this visual guarantees you visibility with your audience.

THE CLOTHES: you have the possibility to personalize the animators with your effigy. There is no doubt that they are your commercial ambassadors.

BALLONS: giant balloons, individually or in clusters, give a colorful side to your campaign. Balloons with logos can also be added on the gyropods. They can be distributed to passers-by in order to circulate longer in town.
Request for information
You wish to contact the agency, obtain information or a price list?
Our team is at your disposal.