Sales promotion - Nice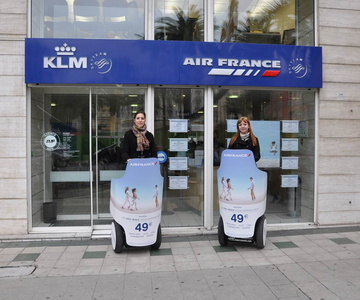 You want to boost the sales of a product or a service? Make speak about you thanks to Mobilboard!
Opt for a street marketing system using Segway gyropods that combines advertising displays, commercial contacts and leaflet distribution. Stand out from the competition, display your brand and distribute your commercial offers.
A proven, tactical and inexpensive event communication that will fit perfectly into your communication plan.
CASE STUDY: AIRFRANCE
The airline company AIRFRANCE launched a new promotional offer on the Paris-Orly, Lyon, Lille, Strasbourg and Nantes connections for €49 with the slogan "Low prices bring you closer together".
OBJECTIVE: ensure visibility and increase the drive to store to the Air France agency.
METHOD: mobile display and distribution of leaflets + goodies by 2 Segway gyropod animators.
AREA: place Masséna, the Piétonne, promenade des Anglais, Nice (06).
Request for information
You wish to contact the agency, obtain information or a price list?
Our team is at your disposal.