Mobilboard Reims - Green Pursuit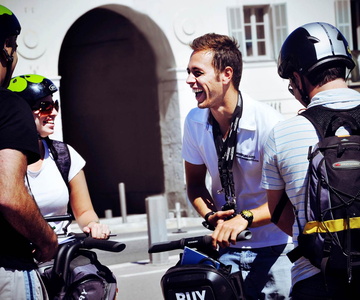 The unique experience that revisits the famous game by piloting the Segway gyropod.
Experience a real game mixing challenge and team spirit, a fun animation based on the principle of "TV games".
Enjoy alternating :
Phases of "pure" piloting of the Segway gyropod while discovering incomparable sensations.
Game phases during which the team is mobilized in a limited time to find an answer on a place.
The richness and diversity of Rémois' heritage is full of anecdotes on various themes. Will you be able to answer them to score points and progress in the course? In this part, team spirit will be very useful!
Geography, entertainment, history, art and literature, science and nature, sports and leisure: the aim of the game is to answer as many questions as possible correctly and to have at least one correct answer in each category.
Certified instructors/leaders initiate and supervise the group to ensure your safety.
On estimate:
Please specify the number of participants, the time you have available, your budget and the desired dates and times
Request for information
You wish to contact the agency, obtain information or a price list?
Our team is at your disposal.