Team building: Segway tour of St Pierre
An incredible experience full of sensations for an original team building in St Pierre
An original team-building activity: the Segway, a fun way to strengthen team spirit. Team building activities are an opportunity to get away from the daily routine, discover each other in a new light and strengthen the bonds between team members. The Segway is an original, fun option that lets you discover a city from another angle, while strengthening communication and group cohesion.
Key benefits
Accessible to all
Original and unusual
Participants divided into small groups
Tailor-made service (schedule, duration, departure and arrival points, number of participants)
A different take on St Pierre's must-sees
Discover St Pierre from another angle
The Segway is an ideal way to discover St. Pierre from another angle. Teams can explore the town's historic districts, such as the Rivière d'Abord district and the Kerveguen building, or the Bons Enfants shopping street next to the town hall, as well as the livelier areas, such as the seafront, the marina and its mythical view of the village of Terre Sainte and the various religious buildings. Depending on your personal preferences, you can personalize your tour and discover some of the city's more unusual and hidden spots.
Team building activity details
Duration: 2 hours
Date and time of your choice
Small groups: 6 participants per guide
Package includes
Guides
Briefing
Segway rental
Mandatory helmet
Radio guide
Optional extras
Gourmet break
Bottled water
Departure / Arrival from the location of your choice
Good to know
How to make a reservation?
Contact us via the form at the bottom of the page to request a quote or :
By phone: +262 33 98 52
By email: lareunion@mobilboard.com
How does it work?
Send us your request via our form
A customized quotation returned within 24 hours
Sign our quote and pay the deposit to confirm your booking
Make the most of an original team-building activity in St Pierre
Can I cancel my booking?
You can cancel your visit free of charge more than 30 days before the booking date. From D-29 to D-9 before the date of the event: 50% of the cost of the quote and 100% on D-8.
What happens if it rains?
Our activities take place in all weathers, and we provide rain gear. In the event of heavy rain, we may cancel the tour and will inform you as soon as possible. It will be possible to postpone your walk or obtain a refund (under conditions please consult us).
Accessibility :
Not accessible to pregnant women or people with inner ear problems.
45kg minimum, 118 maximum
Where's your store?
On the seafront, marina, 25 place Napoléon Hoareau, opposite the St Pierre tourist office.
What equipment should I bring?
Sun cream in summer. Casual clothing, sneakers
Why is the Segway an original team-building activity in St Pierre?
Organizing a team building activity has become a major challenge for companies wishing to encourage cohesion and collaboration between their staff.
The Segway, an activity accessible to all
The Segway is an individual electric vehicle that allows you to get around quickly and easily. Thanks to its maneuverability, it's easy to navigate the streets of St Pierre and discover little-known places. Contrary to popular belief, Segways are accessible to all. All it takes is a little training to master the basics and feel at ease on this machine. Teams wishing to take part in a Segway team-building activity can therefore be made up of people of all ages and levels.
Strengthening group cohesion
The Segway is an activity that promotes group cohesion. To pilot your Segway, you need to communicate well with other team members. It's important to help and support each other to progress together. The activities proposed by the instructors are also designed to strengthen communication and collaboration between team members. Participants need to be able to listen, react and work together to achieve their objectives.
Segway, a fun and original activity
The Segway is a fun and entertaining activity that lets you relax and have fun, while strengthening the bonds between team members. The courses are designed to be accessible to all and to offer maximum sensations. The entertainers are also on hand to set the mood and provide participants with an unforgettable experience.
Organize an original Segway team building in St Pierre
To organize your original team building event in St Pierre, we offer routes adapted to your needs and desires. Our activities are led by qualified instructors.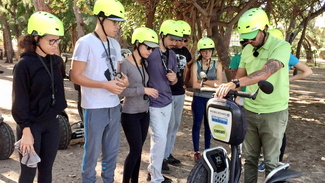 Request for information
You wish to contact the agency, obtain information or a price list?
Our team is at your disposal.