Electric bikes - Rides around Lake Annecy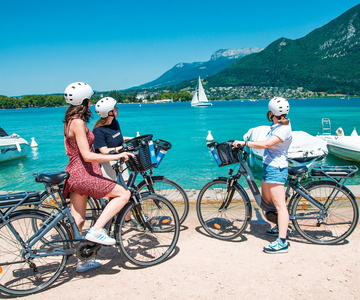 The best of Lake Annecy on an electric bike!
An electrically assisted bicycle (EAB) ride is an ideal way to discover the lake's landscape. You can choose to go all the way around or explore a portion of the lake from any location you wish.
Your group will be seduced by the easy and effortless use of an EAB. This gentle mode of travel will give you time to stroll and enjoy the turquoise waters of the lake and the mountains above.
A guide will be there to ensure that the activity goes smoothly and will provide anecdotes about the lake.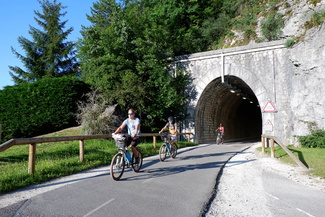 Practical information
Capacity

Duration
From 1h30 to 4h30 (including welcome and training)
Customized duration according to your organization

What is included
The rental of electric bikes
The exclusive privatization of our animators
The opening of a time slot tailored to your needs
The loan (mandatory) of a helmet

Accessibility of the activity
From 150cm

Participants must already know how to ride a bike

Accessible to pregnant women with a doctor's approval

Equipment to bring
Flat closed shoes
Winter: gloves, down jackets and windbreakers
Summer: sunglasses and sunscreen

Departure place
Departure at the location of your choice (seminar venue, hotel, etc.)

Our other options
The Green Pursuit challenge (urban rally)
Gourmet break(s)
Possibility to combine with other activities (drone animation, etc.)
Can I cancel my reservation?
You can cancel your visit free of charge more than 30 days before the reservation date.
From D-29 to D-9 before the date of service: 50% of the amount of the estimate and 100% at D-8.

What happens in case of rain?
Don't forget to check the weather forecast. Annecy is under a mountain climate. These bike rides take place in any weather and we provide ponchos. In case of heavy rain or snow, we may cancel the ride and we will notify you as soon as possible. You will then be reimbursed in full, except for expenses already incurred (gourmet break, leader, additional bikes).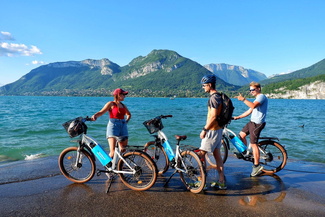 Request for information
You wish to contact the agency, obtain information or a price list?
Our team is at your disposal.