Pedal boat rental - Lake of Sainte-Croix - Gorges du Verdon
Rent a pedal boat at the Lake of Sainte-Croix in the Gorges du Verdon
The natural beauty of the Gorges du Verdon
The Lake of Sainte-Croix
Located in southeastern France, the Lake of Sainte-Croix is a huge artificial lake created in 1973 by the construction of the Sainte-Croix dam. With its turquoise waters and breathtaking scenery, it is the ideal place to enjoy water sports and nature.
The cliffs and the gorges
The Gorges du Verdon, also known as the "Grand Canyon du Verdon", are a series of spectacular gorges carved by the Verdon River. The steep cliffs and deep gorges offer an exceptional setting for outdoor activities and water sports.
The advantages of pedal boats
Renting a pedal boat is an excellent way to enjoy the Lake of Sainte-Croix and the Gorges du Verdon with family or friends. Pedal boats offer several advantages:
Ease of use: You don't need to be an expert in navigation to use a pedal boat. They are easy to maneuver and suitable for people of all ages.
Affordability: Pedal boats are an affordable option to enjoy the water without investing in a boat.
Relaxation: Pedal boating is a peaceful and relaxing way to enjoy the beauty of the surrounding landscape.
Ecology: Pedal boats do not use gasoline engines, making them an environmentally friendly option for getting around on the water.
Choosing to rent a pedal boat at the Lake of Sainte-Croix in the Gorges du Verdon is an excellent idea to spend a pleasant moment and discover this magnificent region from another angle. Don't hesitate to try this activity during your next visit!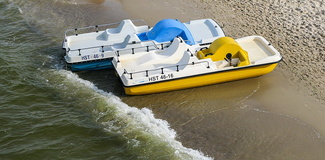 Filter 1 offers