Mobilboard Reunion Island - Segway X2 gyropod sale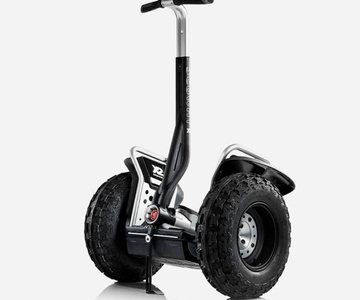 The soft personal transporter is ideal for overcoming all types of obstacles or little-used paths.
Robust and reliable, the Segway X2 gyropod is the ideal soft personal transporter to cross any type of obstacles or little used paths. Its smooth and fluid ride will allow you to feel comfortable on a wide variety of terrain such as snow, mud, gravel or even grass!
Who is the Segway X2 gyropod for?
- For individual users
A real mode of transportation with about 20km of autonomy, it will allow you to move on various terrains to get to your different places of life.
- Professionals of tourism
You want to create guided tours through steep paths? The Segway X2 gyropod is the ideal tool. You own a golf course? Why not rent this gyropod, specially mounted with turf tires for your customers?
Technical specifications
- Autonomy: up to 20 km
- Speed : up to 20 km/h
- Weight : 54,40 kg
- Width : 84 cm
- Depth : 53 cm
- Ground clearance: 11.4 cm
- Platform height: 24 cm
- Lithium-ion batteries
- Black
Request for information
You wish to contact the agency, obtain information or a price list?
Our team is at your disposal.