Team building / Incentive program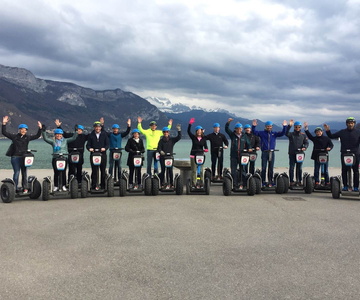 Promote team cohesion by organizing an original and innovative team building.
Approach the event with serenity
The first function of the team building is to gather your teams in a framework combining relaxation and performance. With Mobilboard, it takes a convivial form for a better cohesion of group.
Which activities? Which destinations? Which objectives? We bring you solutions to the card or to measure according to your specifications, remain serene: we take care of everything!
The + Mobilboard Annecy
Since 2009, and every year we welcome with pleasure hundreds of tourists to visit Annecy. From this experience in leisure tourism, and by maintaining strong links with other actors (activities, places, transfers, etc.), we advise and design corporate events such as team building activities.
What is it concretely about?
We can organize your team building in Annecy and its region in the smallest details: we can propose you several activities (rallies, olympiads, urban rides on gyro-pods, electric bikes, private boats or without a license, etc.), manage possible transfers and even organize your company party!
3 good reasons to choose us
- Because we have built a network of qualified service providers
- Because we offer team building activities that are both offbeat and appropriate
- Because we take care of everything, you can focus on the essential: your employees
(- Because we are so nice?)
Request for information
You wish to contact the agency, obtain information or a price list?
Our team is at your disposal.