Team Building in Lyon: the top outdoor activities in soft mobility
Published on 19/04/2023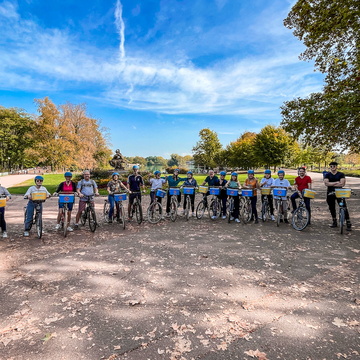 Lyon is a real playground to organize an outdoor team building activity with soft modes. Whether you want to organize a team building activity or simply discover the city with your colleagues, soft mobility activities are an interesting option to strengthen team cohesion while having fun. Mobilboard, specialist in bike, Segway and electric scooter activities, offers original and fun activities for all levels.
The Segway, an unusual outdoor activity accessible to all
The Segway is an individual electric vehicle that allows you to move easily. Thanks to its great maneuverability, it is possible to ride easily on the bike lanes of Lyon and to discover places that cannot be ignored.
Contrary to popular belief, the Segway is an activity accessible to all. All it takes is a little initiation to master the basics and feel comfortable on this machine. Teams wishing to do a team building activity on Segway can be composed of people of all ages (from 12 years old and 45kg) and all levels.
At Mobilboard, you can make rides or animations from 1 hour to 3 hours of ride in Lyon! The activities for groups are made to measure: discover all our team building offers with Segway.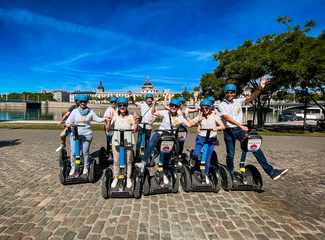 The bike, an outdoor team building, relaxing and cultural
The city bike or electric bike is a great alternative. The activity is very accessible (you just need to know how to ride a bike without the wheels) and our routes allow you to make beautiful urban adventures all together.
Visit the city in a playful way by doing the grand tour of Lyon by bike for example! A 20 kilometer experience totally flat with the most unavoidable places of Lyon such as the Parc de la Tête d'Or, the banks of the Rhône, the Place des Terreaux and the Confluence district.
Looking for an extraordinary team building activity? Let's discover the hills of Lyon by electric bike. Climb easily on the Fourvière and Croix-Rousse hills to discover incredible panoramas on Lyon. Book your team building on bike.
If you want to visit the city at your own pace, you can also take advantage of our bike rental service. We provide a fleet of bikes, from our agency or from the place of your event and you go on your route and your other activities. Discover ourbike rental offersfor groups.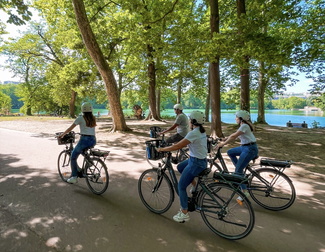 The electric scooter: a fun outdoor activity
The electric scooter is another interesting option for teams who wish to discover Lyon in soft mobility. The electric scooter is a fun activity that allows you to move quickly and quietly. Teams can ride along Lyon's bike paths with our instructors, discovering unusual places and our favorite spots.
As with bicycles, you can also ask us to rent scooters without an instructor so that you can visit Lyon at your own pace, for a half-day or a full day.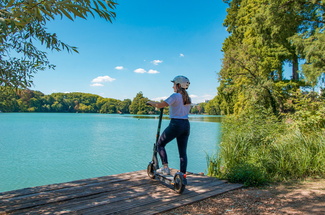 At Mobilboard: outdoor team building activities made to measure
We offer pre-established routes, which can be customized according to the desires and needs of each team. Our animators can propose itineraries adapted to the levels and the desires of each one. It is thus possible to discover the historical districts of the city, such as Old Lyon and Fourvière, to walk in the Tête d'Or park, but also the more contemporary districts, such as the Confluence. Depending on your desires, you can personalize your tour and discover unusual and hidden places in the city.
Team building activities to strengthen team cohesion
We have also designed an escape game and an urban rally to strengthen team cohesion. The participants must show communication, reactivity and solidarity to progress together. The animators propose games, challenges and fun events that promote collaboration and mutual aid between team members.
Original activities for all tastes
With Mobilboard, there is something for all tastes and needs to create an extraordinary experience for all teams. Our activities are fun, cultural and above all accessible to the greatest number. Whether it is for Segway, bike or scooter, you can also ask us for a cargo bike (to transport your picnic), a cab bike (for a pregnant employee for example) or a tricycle (for a person with reduced mobility).
You can contact us directly by phone at 09 83 58 73 35 or send us your request for a team building activity by email at lyon@mobilboard.com. Finally, you can find on our website all our activities for groups and team building activities.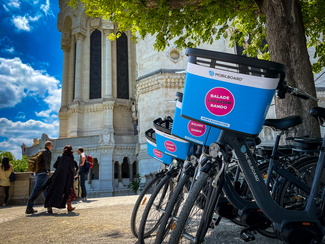 The FAQ about our outdoor team building activities in Lyon
Is it possible to get a quote for your activities?
All our team building activities are made on demand and on estimate. We will send you an offer within 24 hours of your request.
What is the budget for my activity?
The prices indicated on our tours are the general public prices: there is no privatization, opening of a customized slot or options such as our gourmet break, our escape game or a departure/arrival outside the agency. Our services for groups are made to measure and on estimate.
Can I organize a departure from my hotel or an arrival at my restaurant?
Yes, it is possible to organize a departure "outside the walls". We add an option of logistics fees to our proposal.
Is it possible to personalize the team building activity?
Of course! We offer gourmet breaks, an escape game on the Lyon Gang, an urban rally like Questions for a Champion, thematic visits (the Resistance, the Lyon Mothers) and we can also design customized itineraries.
To contact us
☎️ By phone : +33 9 83 58 73 35
📩 By mail : lyon@mobilboard.com