Segway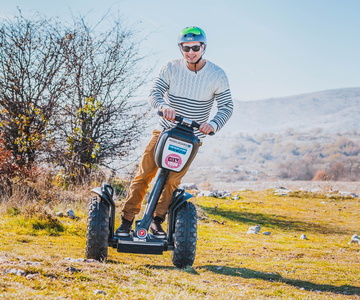 Segway rides
In each city, Mobilboard offers you to discover the cultural heritage seen from a different angle. In the heart of historic centers, where other means of locomotion are impossible, you glide and this sensation multiplies the pleasure of discovery... You see so much more, it is the ideal way to visit a city!
Your guide is there to reveal the hidden treasures of the most beautiful cities on themes as varied as art, traditions, gastronomy, ecology... Live a fun and cultural experience that will make your outing an unforgettable moment of tourism.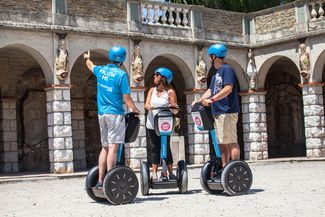 Nature / adventure rides on a gyropod
Initiation, relaxing ride, commented tour or adventure ride, let yourself be transported! Enjoy nature in a different way, observe the fauna and flora and breathe the fresh air. All of this without any noise pollution and in respect of the environment with zero CO² emissions: this is the program of a Segway gyropod ride.
No matter what the terrain, sand, snow, stones, slopes: nothing stops your Segway x2! Nature activities are planned in compliance with the provisions of the Environmental Code.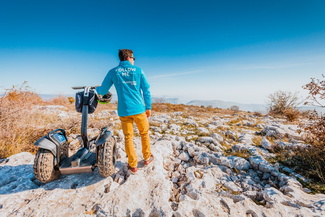 An unforgettable leisure activity
The intuitive driving of the Segway gyropod allows you to experience a unique pleasure. In just a few minutes, you'll experience sensations that are "between skiing and flying carpet"!
Moments of fun and relaxation, our selected itineraries allow you to live this experience at full power and in complete safety. With family, colleagues, couples or friends, a Segway gyro-pod ride is a way to share moments rich in emotions.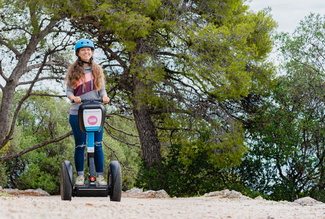 What is a Segway gyropod?
Gyropode is the generic term for a self-stabilized two-wheeled vehicle. It is a single-seater electric vehicle, consisting of a platform with two wheels on which the user stands, a gyroscopic stabilization system and a handle for holding and driving.
The first gyropod put on the market is the Segway PT (Personal Transporter). This revolutionary vehicle was invented in 2001 by the American Dean Kamen. Contrary to fake news, the inventor of the Segway is not dead.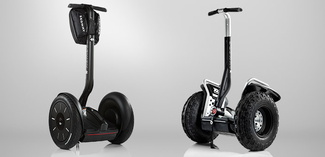 The Segway brand is the leader in the manufacture of this type of device. The gyropod is a range of two-wheeled single-seater vehicles based on technology with gyroscopes. Thanks to these gyroscopes, the gyropod is capable of self-stabilization.
Not only does this system allow the gyropod user to achieve perfect and automatic balance, whether he is stationary or in motion. But also, thanks to this technique, the driver of a gyropod is sure never to lose his balance or fall, whatever the speed at which he is driving. Of course, it is advisable to respect the rules of use and safety and not to rush without stopping!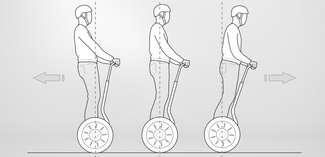 The Segway is easy to use
We are always surprised by the great shape of the seniors and their extraordinary capacity to discover new technologies. They are sometimes the most enthusiastic about riding a Segway for the first time! Also, they are often the most comfortable to drive a Segway and enjoy a little ride. As you can see, there is sometimes a minimum age to drive in some countries (12 years old in France for example), but there is no maximum age to taste the joys of the gyropod.
In just a few minutes, everyone can move forward, backward, and even turn on themselves. And that without having to look for its balance.
It seems astonishing but it is real: there is neither gas pedal handle, nor brake pedal. It is thus only by inclining your body towards the front that the gyropod will advance. And, by straightening up towards the back, it will stop. To turn, you just have to push the handlebars to the side and the gyropod will take you exactly where you want.
So... shall we go for a ride together?
SEGWAY I2 : the city with the urban model
Silent and fast, there is no more efficient way to get around, especially over short distances.
No more traffic jams and parking lots, your trip becomes a real pleasure that will make you addicted! An efficient means of transportation perfectly adapted to today's world.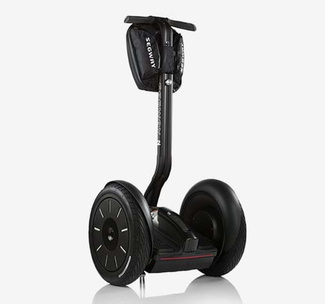 SEGWAY X2: adventure with the all-terrain model
No matter what the terrain, sand, snow, stones, slopes: nothing stops it!
Stroll through the undergrowth, climb mountains or descend dunes and let the incredible feeling of freedom and adrenaline rush through your body.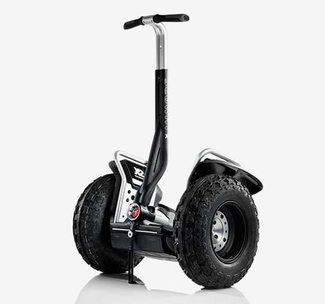 FAQ about Segway
Can we use a Segway gyropod in the rain?
Yes, the Segway gyropod's electronic and electrical system is waterproof enough to be driven in standard rain. The most important thing is not to submerge the batteries, especially during off-road use.
Can the Segway be driven on sand?
Technically yes. A Segway off-road gyropod can manage to ride in the sand, but this is not its preferred terrain and it is important to check that you have the right to drive on a beach, for example.
What is the autonomy of a Segway gyropod?
Up to 38 km per charge depending on the model. The autonomy is variable according to many criteria such as the temperature, the driving style or the tire pressure.
What is the speed of a Segway gyropod?
Up to 20 km/hour. However, the speed should be moderated when using it, especially in the city center. It is not necessary to go fast to get the feeling of gliding.
How do you recharge a Segway model?
On any standard power outlet! So it's easy to recharge your Segway almost anywhere.
Can I fall while riding a gyropod?
Even if it's rare, it's always possible to fall, just like on foot or on a bike, especially if you don't follow the instructions. However, the Segway gyropod fully manages your balance, you just have to stay attentive to what is happening around you. Mobilboard guides provide training and guidance to enjoy a safe tour.
What is the weight of a Segway gyropod?
47,7 Kg for the model " i2 " and 54,4 Kg for the model " x2 ".