Electric scooter rental in La Rochelle - 4h formula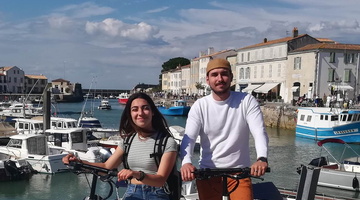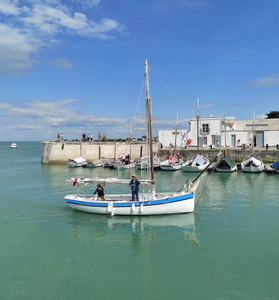 Voir les 11 photos
For a wonderful discovery of La Rochelle or an escapade on the Île de Ré
Book online
Book with no fees, no waiting at the best price!
lock
Strong points
Our electric scooters offer excellent comfort and exceptional range , so you can enjoy great outings in and around La Rochelle.

Our scooters will enable you to visit both La Rochelle and the Ile de Ré or Châtelaillon-Plage in the best conditions.
Visiting and discovering the treasures of La Rochelle's heritage, or the magnificent landscapes and charming villages of the Ile de Ré, or the lovely resort of Châtelaillon-Plage are a must.

A half-day trip from La Rochelle, for example, will take you as far as Saint Martin de Ré.

What's more, the numerous cycle paths are ideal for scooter rides.

Finally, with a half-day rental and your own comfortable scooter, you're sure to have a great time!
The scooter is rented from the Mobilboard agency. So you can plan your tour at your own pace. Starting from the Mobilboard agency in La Rochelle, for example, you can begin by visiting La Rochelle and its magnificent architectural heritage, before moving on to the Ile de Ré or Châtelaillon-Plage.
You'll then be able to enjoy some of the best views of La Rochelle and the Île de Ré, including the breathtaking panoramic view from the bridge!
Then it's on to the bike paths and picturesque villages of the Île de Ré: Rivedoux, La Flotte en Ré, Saint-Martin de Ré, le Bois Plage. You'll have plenty of time to stroll and relax along the way.
The island of Ré offers a unique diversity of landscapes in a very unspoilt natural setting. Depending on your itinerary, you'll cross the island's salt marshes and vineyards, and discover its many pretty little ports.
You can also take a gourmet break in one of the many oyster huts on the island to sample the local oysters, or enjoy an ice cream in Saint Martin de Ré or La Flotte en Ré. You can also take a relaxing break on one of the island's beaches.

If you opt for an escape to Châtelaillon-Plage, you'll discover a lovely seaside resort with authentic charm. The beaches are magnificent, and the seaside walk to Le Boucholeur and the Marais d'Yves nature reserve are simply exceptional.
Rent your very comfortable Grand Tourisme electric scooter for an unforgettable escapade in an enchanting setting.
Read more
| | |
| --- | --- |
| Duration | Half day |
| Rate / person | From 29 € |
| Minimum age | 14 years old |
Details of the formula
The package includes
Rental of an electric scooter for tourism
The provision of a helmet
The provision of an anti-theft device
Third party liability insurance
Discover the activity in video
Good to know
Practical information :
Rental duration: 4 hours maximum
Rental during agency opening hours
Rental includes third-party liability insurance
User training by Mobilboard
Age: from 14 years (minors accompanied by an adult)
Maximum load: 120 kg
Reservations :
Online at www.mobilboard.com/larochelle
By telephone 05 46 43 28 55
At Mobilboard 44 rue Saint Nicolas

Scooter use :
Use of cycle lanes and, failing that, roadways (only roadways limited to 50 km/h)
Speed limited to 25 km/h
Only 1 person on the scooter
Pedestrian priority
Respect for other users
Sidewalk authorized only without motor and at walking speed
Helmets recommended
Other items :
Credit card for security deposit
Deposit (not debited): €400
Notice
Availability
Agency accessibility Mobilboard La Rochelle
The Mobilboard agency is located at 2 steps from the Tourist Office and the Old Port of La Rochelle
Parking : Prefer the Vieux Port Sud and Encan parking lots located 5 and 7 minutes from the agency
La Rochelle train station : located 8 minutes walk from the agency
Meeting place
44 Rue Saint-Nicolas 17000 LA ROCHELLE