Affinity Tour - Segway Touquet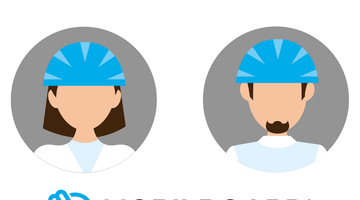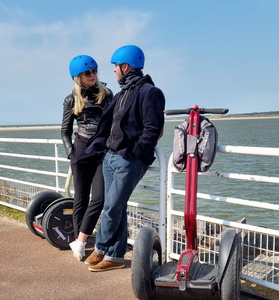 Voir les 2 photos
Leave room for the unexpected, the surprise, and the pleasure of discovering each other, between singles, by participating in a ½ day of activities accessible to all.
Book online
Book with no fees, no waiting at the best price!
lock
Mobilboard Le Touquet offers Affinity Tours for singles who want to meet new people for half a day.

Let go, let loose, with other singles, during this day in Le Touquet-Paris-Plage, with surprises, unusual visits, and moments that will help you meet people!

Segway rides, electric scooter games, guided tours and hikes, and surprises!

Our approach:
"Leave room for the unexpected!". This is our credo, which is only up to you.
Our only objective is to bring together singles who want to meet new people, why not lovers (who knows?!), by creating a time conducive to exchanges, conviviality and good humor, through the practice of fun activities that are real experiences, sensational and original.
We do not pretend to create romantic relationships. We bring together single people, and offer them an original, sensitive and disconnected environment, focused on opening up to others, by sharing common experiences. So, we give you this advice: don't wait for anything, and welcome what comes!
Yes, you can! Wait for this: we want all the participants to have a very positive and unique moment, and thus to have opportunities and material to be surprised, to exchange, to laugh.
This is how we hope to make you available to the unexpected.

During this afternoon, renewed every 1st and 3rd Saturday of the month, we propose you a common experience: the visit of Le Touquet-Paris-Plage by Segway. Then, each participant chooses according to his affinities - games/culture/nature - a second activity. The debriefing and the exchanges will continue afterwards, with a drink of the meeting, on the sheltered terrace of a partner restaurant.


Program for the ½ day:
1:45-2:00 pm: Welcome: presentation of the team and the participants
14h00-15h45 : Segway ride After a short initiation to the Segway piloting, let yourself be guided to discover the most beautiful sites of Le Touquet, on a course that will enchant you. The ride is punctuated by walking breaks, favourable to discussions.
You will discover a splendid point of view on the bay of Canche, after having gone along the dune cordon. Then, we will go to the lighthouse of the Canche. But before that, we will have discovered the mollières.

15h45-17h15 : choice of 3 activities - 1h :

Affinity Games: Scooter trail game (10 people max)
Affinity Culture: Guided tour of the lighthouse.
Affinity Nature: Guided walk in the dunes.
5:15-6:00 pm: Break for a drink and entertainment To discover each other with refreshments and entertainment, in a friendly atmosphere

Commitments :
Respect: we cultivate openness and tolerance. We expect the same from you!
Conviviality : our animators come with their good mood. Come with yours!
Mixed: we guarantee you a mythical afternoon! For typical half days or mystical mornings, we'll see later!
Guaranteed number of participants: we guarantee the activity for a minimum of 6 participants.
Transparency: if you have any questions, don't hesitate.
Documents to be provided:
If you opt for the scooter treasure hunt, please bring your CB for the rental deposit.
Read more
| | |
| --- | --- |
| Duration | 4h00 |
| Rate / person | From 60 € |
| Minimum age | 18 years old |
Details of the formula
The package includes
The services of an instructor guide
The loan of a protective helmet is mandatory
Equipment rental
A drink, and entertainment on the terrace of a partner restaurant
The formula does not include
All consumption other than those described above
Good to know
F.A.Q.
Can I cancel my reservation?
You can cancel free of charge up to 24 hours before the activity date. No refunds are possible within 24 hours before the departure date. You can also ask for a postponement of your reservation at no cost.

What happens in case of rain?
Segway rides are all weather and we provide waterproof ponchos. However, we understand that you may not want to take the ride in continuous rain. In the event that, within 2 hours of departure, continuous rain is forecasted during the time slot of your ride, you may cancel without charge. In case of heavy rain, stormy rain, we can cancel the walk and we will warn you as soon as possible. You will then receive a full refund. Don't forget to check the weather forecast (here: Météo France) if you arrive soon.
Can anyone ride a Segway?
You must be at least 12 years old, not have serious inner ear problems, and not be pregnant. And is it easy? It takes 2 to 3 minutes to get the hang of the Segway! In fact, it couldn't be easier.

What time does the activity start?
Please arrive at least 15 minutes before the start of your tour so that you have time to fill out the start log and be equipped with a helmet. We cannot wait for latecomers as it affects the experience of other participants. If you are running late, please try to call us as we may be able to schedule an alternate departure. No refunds can be requested for late arrivals. Please remember to plan ahead for parking. It is sometimes difficult to find a parking space.

Where is the meeting place?
Meet at 63 boulevard du docteur Jules Pouget, 62520 LE TOUQUET PARIS-PLAGE.

Are there any parking lots nearby ?
Yes ! and we give you here the link to the parking map of the city. But remember to plan ahead, in case there are not enough spaces, especially on busy days.

Is therea minimum/maximum number of participants?
Everyone is welcome at Mobilboard. However, our reservations are guaranteed from 2 people. You can however pre-book in order to be on the waiting list. We can however cancel your reservation free of charge or offer you another departure or a different date.
For this tour, which is aimed at individuals, the maximum number of participants is 8 people, for an optimal experience. For larger groups who wish to have a tailor-made service, it's here!

What should I wear?
Flat, comfortable shoes are a good start. Remember to cover up: an extra layer, you never know, is welcome. And in case of rain, we have waterproof ponchos.
Notice
Availability
Meeting place
63, Boulevard Du Docteur Pouget, 62520 Le Touquet-Paris-Plage