Le Touquet, treasure hunt - The Treasure of Socotra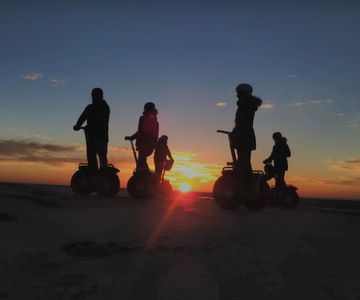 Go in search of the treasure of the SS Socotra, a ship that ran aground on the beach of Le Touquet in 1915!
In mid-October 1915, the ship left the port of Brisbane in Australia for London with a load of about 3000 tons of cargo composed of wheat, leather, wool bales etc...
When it arrived in the North Sea, the captain decided to sail as close to the coast as possible in order to be protected by the French coastal batteries, safe from German submarines. At this time of the conflict, convoy navigation was not yet in place.
Its crew was composed of 36 sailors and officers. When they were rescued, the inhabitants of Le Touquet offered them food, which they did not have time to enjoy fully.
Also, some of the crew took the time to hide the gift, giving everyone clues to find it.

With your Segway® gyropods and your treasure map, go in search of the treasure. Enigmas, secret codes and tests are all part of the circuit that will lead you to the treasure.
Request for information
You wish to contact the agency, obtain information or a price list?
Our team is at your disposal.